Turf grasses play a critical role in the general health and welfare of our nation and as a result of increasing urbanisation and deforestation; they are becoming more and more important for human health. Turf is not only a major source of beauty and comfort in our lives but also a cleansing answer to our environment.
NATURAL VS SYNTHETIC TURF
The frightening effects of artificial turf on both humans and the environment are already being corrected by natural grass on a daily basis. Athletes and coaches, professionals and amateurs, fans and homeowners all prefer the joy that natural grass brings into their lives. The cost(s) of installing and maintaining a natural grass field…
FREQUENTLY ASKED QUESTIONS
How do I stop weeds from growing in my turf?
The best way to stop weeds from growing in your turf is to keep your lawn as healthy as possible. This involves fertilising every 6-8 weeks during the growing season (spring and summer) and once or twice through the winter period. Correct watering is also essential to the good health of your turf.
Over a period of three Perth summers research at the University of Western Australia proved that a healthy green lawn can be maintained by selecting from a range of warm season, deep rooted lawn grasses more suited to our hot summer environment
If you are establishing a new lawn or garden, you may apply for a temporary exemption from the sprinkler roster that applies to your area.  New lawn can refer to roll on lawn, runners, shredded lawn and/or seed.  This exemption applies to scheme water supplied by the Water Corporation …
Extensive research in USA has demonstrated that turf and lawn areas can:
Reduce surface temperatures by up to 10 degrees C compared to bare soil and up to 30 degrees celsius compared with synthetic surfaces.
All suburbs have different soils so look for a fertiliser blend for your area.
Maintaining a healthy lawn 
To keep your lawn in great condition it will require year round maintenance including watering, mowing, fertilising, top dressing, de-thatching and regularly applying a quality wetting agent and/or moisture retainer.
Biagra is a bi-active formula provides both outstanding penetration along with superior moisture retention.  Bi-Agra strength is its ability to retain additional moisture in normally low water-retaining root zones. Unlike polyacrylamides which hold water tightly, Bi-Agra holds moisture in the soil, yet allows water availability through the normal process of osmosis as required by the roots.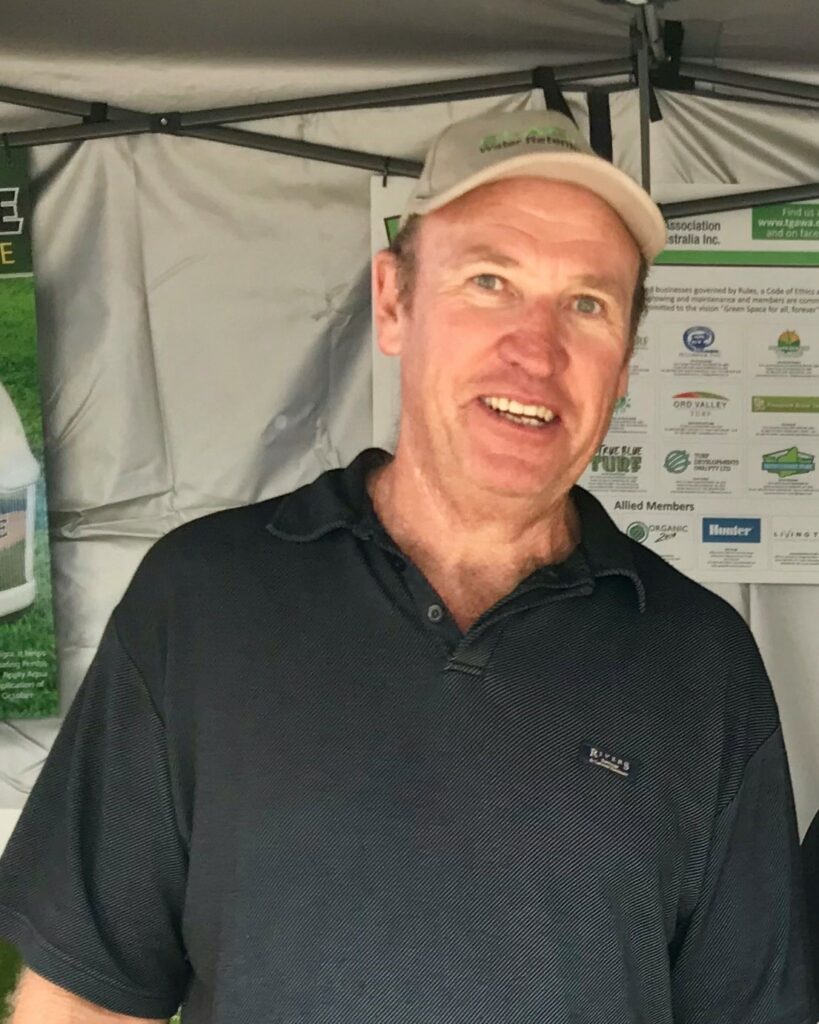 Graeme has been in the turf industry for almost 40 years. Starting as an assistant greenkeeper at Victoria Park Bowling Club then head greenkeeper at Mosman Park Bowling Club. While at Mosman Park, Graeme was often consulted by local sporting associations and residents for lawn care advice. He enjoys sharing his knowledge and believes in simple lawncare that uses good quality products. In 1997 Graeme started his turf farm, AG Buffalo Turf Supplies, in Baldivis. He was the first and is still the only turf farm to specialise in buffalo turf. Graeme has been active in the TGAWA for the past 20 years and is passionate about promoting the benefits of natural turf.
From this ……to this………..in just 6 weeks

–

The Turf Growers Association WA has worked collaboratively with the Water Corporation to build this really good little guide on "How to bring your brown lawn back to life". The usual reflex with a brown lawn is to give it a good soak, but it's not just water your lawn needs to survive the heat.… Continue Reading
Sprinkler TIP

–

Avoid using a combination of sprinkler types in a single irrigation station. Each sprinkler type distributes water at a different rate. Without uniform sprinkler types, you may find brown patches appear on your lawn. For example, pop up sprinklers generally take between 13 and 20 minutes to put down 10mm of water, while rotary sprinklers… Continue Reading
Summer Tip

–

With the heat of summer upon us, it's time to check if you're irrigating your lawns and gardens effectively. The best way to measure whether you are applying 10mm of water per irrigation is by conducting a catch cups trial to measure your irrigation output. Catch cups are available free from your local Turf Growers… Continue Reading